Key Factors Affecting Home Affordability Today
Posted by Rummy Dhanoa on Tuesday, November 8, 2022 at 12:18:58 PM
By Rummy Dhanoa / November 8, 2022
Comment
We hear about the problems with affordability that purchasers are currently experiencing every time there is a news item regarding the property market. The emphasis of those headlines is the increase in mortgage rates over the course of this year. And while it's true that rates have increased significantly, it's vital to keep in mind that they aren't the only aspect of affordability to consider.
Property prices, mortgage rates, and earnings are the three criteria used to determine if a home is affordable. Let's examine each in more detail.
1. Mortgage Rates
The majority of people who discuss the current state of homebuying conditions concentrate on this aspect. Current rates have risen by over four full percentage points since the year's start. As Deputy Chief Economist at Freddie Mac Len Kiefer explains:
"U.S. 30-year fixed mortgage rates have increased 3.83 percentage points since the end of last year. That's the biggest year-to-date increase in rates in over 50 years."
The cost of financing a house purchase is being affected by the rise in mortgage rates, which is making it difficult for many purchasers and driving some out of the market. Although it is difficult to predict where mortgage rates will go in the future due to present global unrest, experts do agree that they will likely stay high for as long as inflation does.
2. Home Prices
Home prices are the second issue at play. Home prices surged during the pandemic, which has garnered media attention over the past few years. Home values have now been down for a sixth straight month, according to the most recent S&P Case-Shiller Home Price Index (green in the graph below):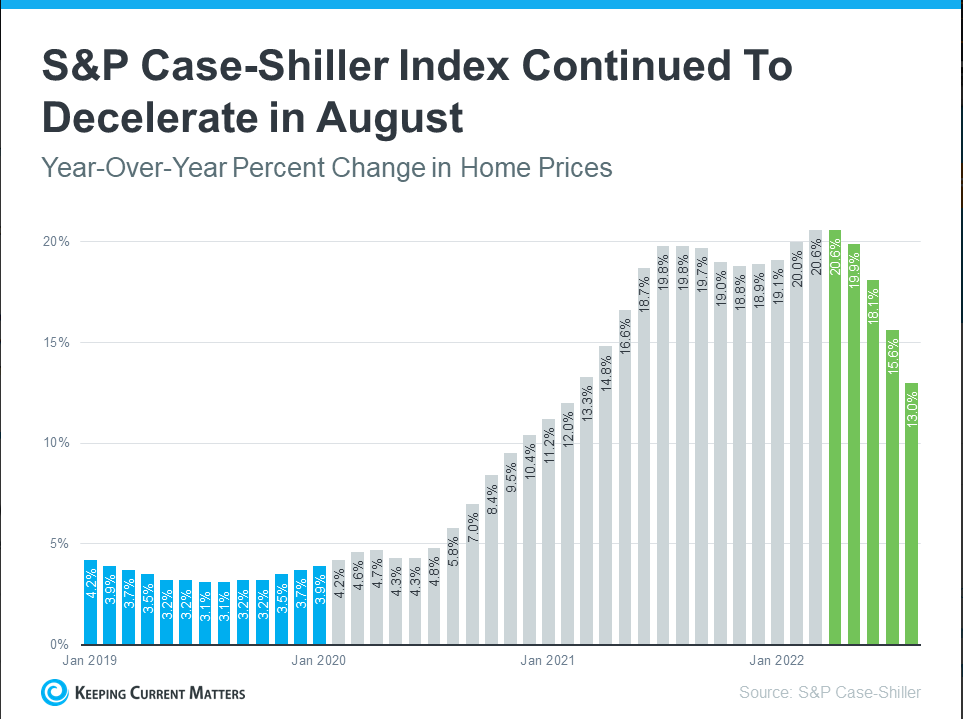 Higher mortgage rates are reducing demand, which in turn lessens buyer rivalry and bidding wars that previously drove prices up. As a result, this deceleration is taking place.
But it's important to note how much higher housing prices are now than they were before to the pandemic (shown in blue in the graph above). Even today, it will take some time for home price growth to return to more typical levels, which generally hover around 4%. The difficulty of maintaining affordability and your purchasing power increases when both mortgage rates and housing prices are high.
However, even while prices are still high in many marketplaces, certain regions are experiencing minor drops. Everything is based on your local market. Contact a reputable real estate expert for information about what's going on in your neighborhood.
3. Wages
The rise in American wages is the only significant, beneficial factor in the affordability equation. The graph below illustrates how salaries have increased over time using information from the Bureau of Labor Statistics (BLS). This year is no different.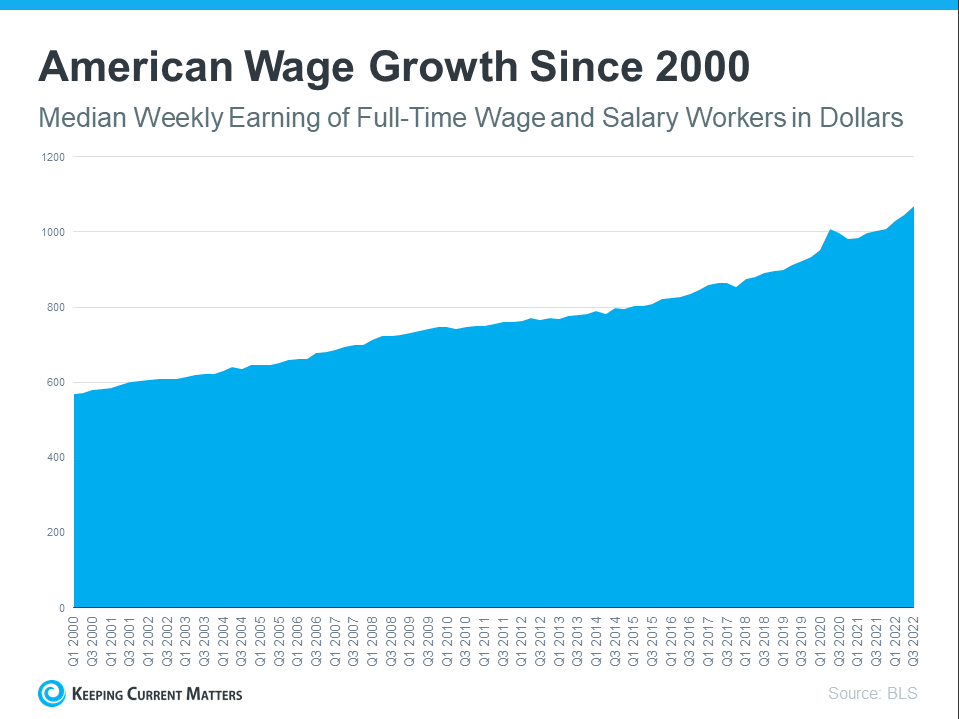 As the Bureau of Labor Statistics (BLS) reports:
"Median weekly earnings of the nation's 120.2 million full-time wage and salary workers were $1,070 in the third quarter of 2022 (not seasonally adjusted), the U.S. Bureau of Labor Statistics reported…This was 6.9 percent higher than a year earlier…"
Therefore, keep in mind that the complete picture encompasses more than just mortgage rates when you consider affordability. Additionally, earnings and home prices must be considered. Wages have been increasing, which is a significant factor in why serious purchasers are still buying homes this year.
Contact a dependable advisor who can explain how all of these factors interact and what's occurring in your area if you have any questions or want to learn more. According to National Association of Realtors (NAR) President Leslie Rouda Smith:
"Buying or selling a home involves a series of requirements and variables, and it's important to have someone in your corner from start to finish to make the process as smooth as possible… and objectivity to deliver trusted expertise to consumers in every U.S. ZIP code."
Bottom Line
If you want to understand more, speak with a reputable real estate agent and a nearby lender so you can decide if you want to purchase or sell a home right now.
For more listings, click the link below:
Homeclickny.com
Contact us at:
914-214-7298