Momentum Is Building for New Home Construction
Posted by Rummy Dhanoa on Tuesday, July 11, 2023 at 2:36:50 PM
By Rummy Dhanoa / July 11, 2023
Comment
If you're looking for a home right now, you're aware that the supply of homes for sale is limited, and you're feeling the pinch of having fewer options. And, if you're having trouble finding something you like right now, keep in mind that a newly built home is a great option.
According to a recent National Association of Realtors (NAR) article:
"Home buyers continue to be met with limited housing options during what's typically the real estate market's busiest season. . . . The current supply of existing homes is about half the level it was in 2019 . . . Meanwhile, the market for new construction is a bright spot."
Here's a look at a key metric that shows how much new home construction is increasing across the country. It's referred to as new residential completions. Completions are newly constructed homes that are finished and ready to move into.
The graph below shows the trend of new-home completions over time using Census data, including the long-term average for the number of finished housing units (shown in black on the graph):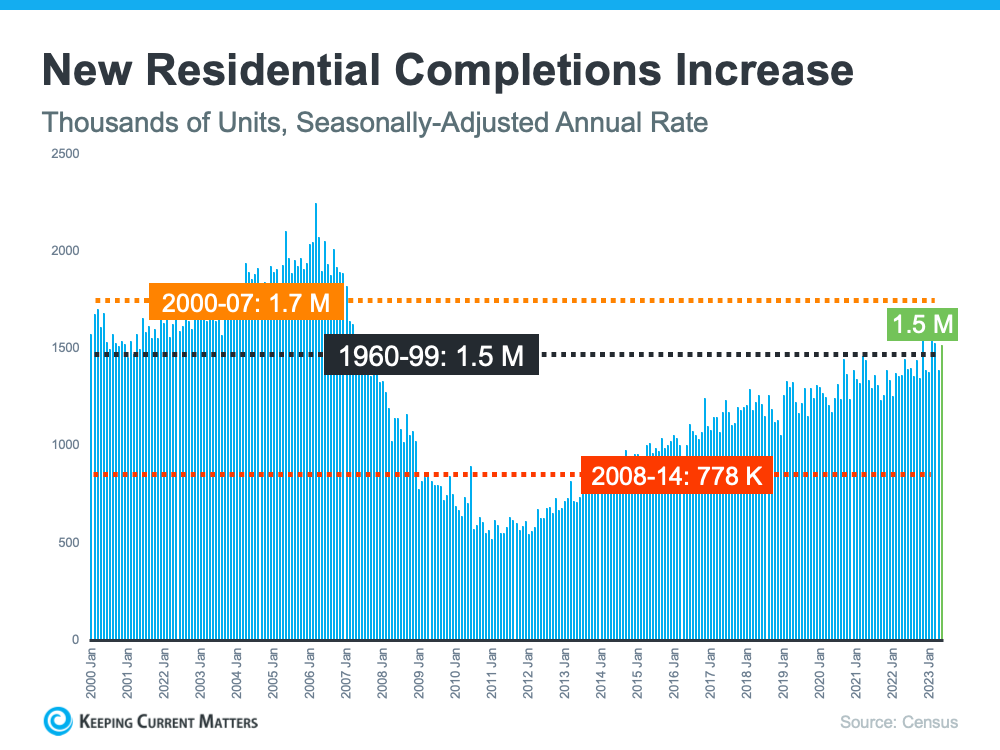 s shown on the left (in orange), builders exceeded that average in the run-up to the housing crash. As a result of the oversupply of homes on the market, home values fell. That was one of the factors that contributed to the 2008 housing crash.
Since then, the pace of new home construction has slowed, and builders have failed to meet the historical average (shown in red). Underbuilding has resulted in a multi-year inventory deficit in the housing market. And it is this deficit that is causing inventory to be so low right now.
But there is some good news. The green on the right indicates that, according to the most recent Census report, builders are currently matching the long-term average. As a result, they are bringing more newly built homes to the market than in recent memory.
Residential starts and permits are also increasing. Starts are houses where construction has officially begun. Permits are homes where the builder intends to break ground soon. Both are now up, indicating that there will be even more newly built homes soon.
What This Means for You
More newly built homes in various stages of construction means your pool of options has grown. If you're looking to relocate right now and time is of the essence, contact a local real estate professional to learn about recently completed homes in your area. If those houses are built, you should be able to move in quickly.
If you can wait a little longer and the idea of customizing a home from the ground up appeals to you, ask that same agent about the homes in your area that are currently under construction. If you buy a home that is still under construction, you can help choose the features and finishes along the way. And if none of the homes you've seen so far have piqued your interest, being able to customize one may be your best option.
In either case, a reliable real estate agent is an essential component of the process. They'll know exactly what's available in your area and can make recommendations based on your specific needs, desired neighborhoods, and other factors.
In conclusion
So, if you're having difficulty finding a home you like while inventory is so low, it might be time to consider new-home construction. If you want to start that conversation, contact a reputable local real estate professional who is knowledgeable about what's available in your area.
For more listings:
Homeclickny.com
Contact us:
914-215-5861