Real Estate Is Still Considered the Best Long-Term Investment
Posted by Rummy Dhanoa on Tuesday, June 6, 2023 at 4:32:05 PM
By Rummy Dhanoa / June 6, 2023
Comment
With all of the news about rising home prices and mortgage rates, you may be wondering if it is still a good time to invest in homeownership. According to a recent Gallup poll, the answer is yes. In fact, for the 11th consecutive year, real estate was selected as the best long-term investment, continuously outperforming other investment categories such as gold, stocks, and bonds (see graph below):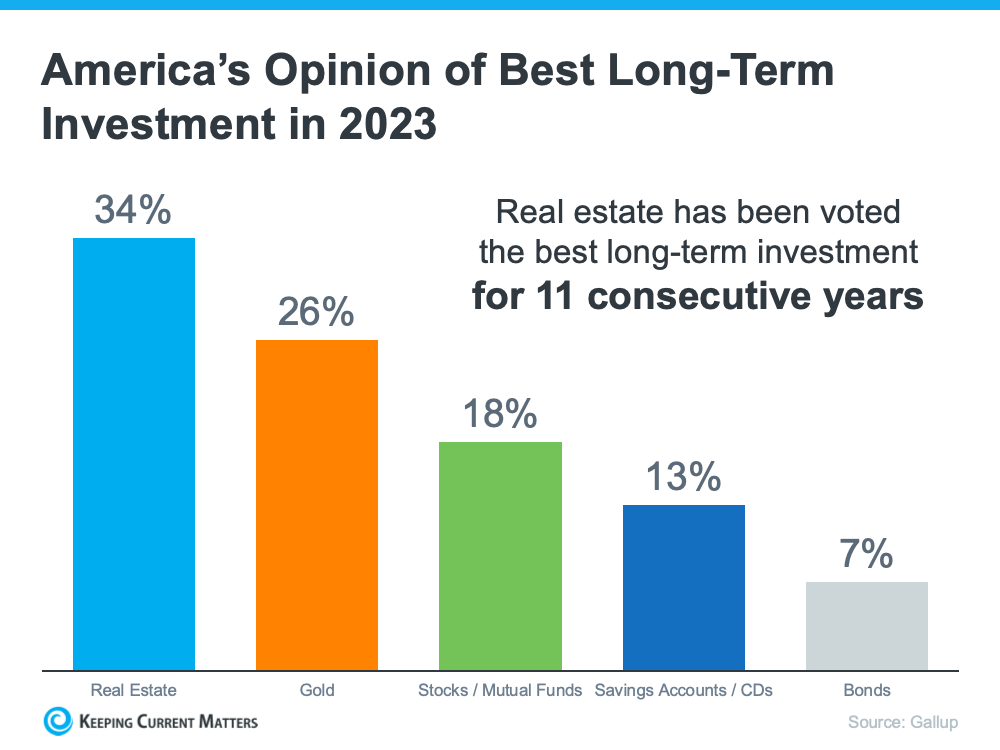 If you're considering buying a house, this survey should reassure you. Even with everything going on today, Americans know that purchasing a home is a significant financial choice.
Why are Americans still so optimistic about the value of home ownership?
Buying real estate has traditionally been a sound long-term method for accumulating wealth in America. According to Lawrence Yun, Chief Economist at the National Association of Realtors (NAR):
". . . homeownership is a catalyst for building wealth for people from all walks of life. A monthly mortgage payment is often considered a forced savings account that helps homeowners build a net worth about 40 times higher than that of a renter."
This is because owning a property increases your net worth over time as the value of your home increases and you pay down your mortgage. And, because accumulating wealth takes time, it may make sense to begin as soon as possible. If you wait to buy and continue to rent, your monthly housing payments will not contribute to your home equity.
In conclusion
Purchasing a home is a significant decision. So it's no surprise that many people consider real estate to be the ideal long-term investment. Connect with a local real estate advisor today if you're ready to begin your own road toward homeownership.
For more listings:
Homeclickny.com
Contact us:
914-215-5861