Saving for a Down Payment? Here's What You Need To Know
Posted by Rummy Dhanoa on Monday, June 19, 2023 at 1:30:27 PM
By Rummy Dhanoa / June 19, 2023
Comment
If you're going to buy your first house, you're definitely concerned about saving for all of the expenses that come with such a large purchase. One of the expenses that may be on your mind is the down payment. If you're worried about how much money you'll need to save, it could be because you believe you need to put down 20%. That does not always have to be the case. According to the National Association of Realtors (NAR)notes:
"One of the biggest misconceptions among housing consumers is what the typical down payment is and what amount is needed to enter homeownership."
And a recent Freddie Mac survey finds:
". . . nearly a third of prospective homebuyers think they need a down payment of 20% or more to buy a home. This myth remains one of the largest perceived barriers to achieving homeownership."
Now for the good news. Unless your loan type or lender requires it, putting down 20% is usually not required. This means you may be closer to realizing your dream of owning a home than you realize.
According to the National Association of Realtors, the median down payment has not exceeded 20% since 2005. Indeed, the current median down payment for all purchasers is merely 14%. It's considerably lower for first-time purchasers, who pay only 6% (see graph below):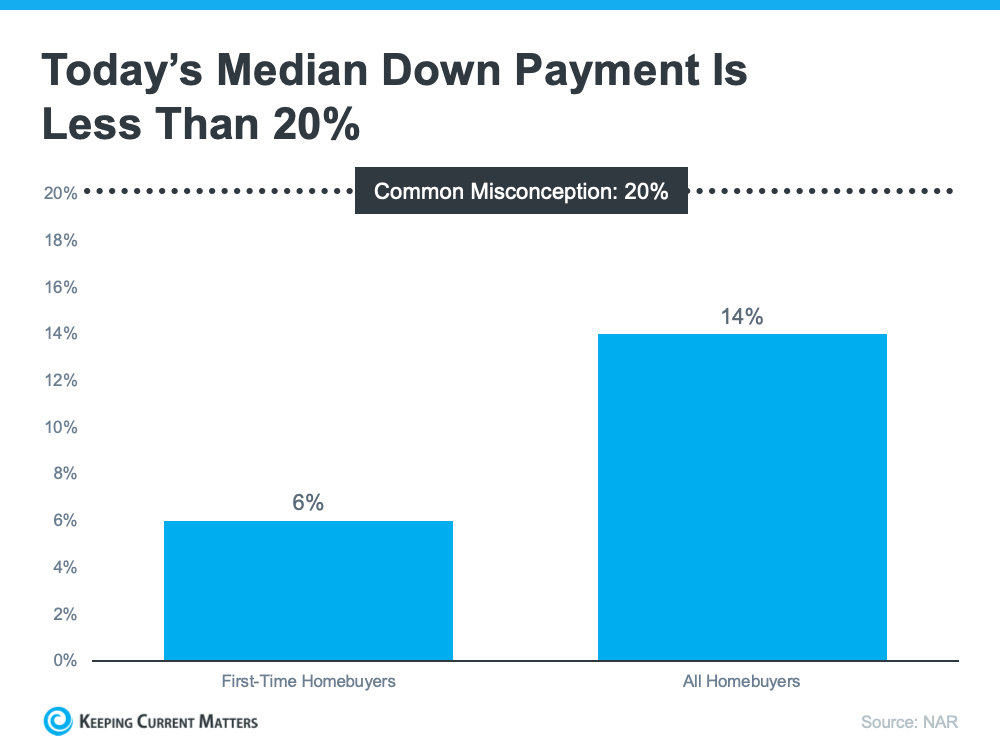 What does this have to do with you? It means you might not need to save as much as you expected.
Learn about options that can assist you in reaching your goal.
Not only is it unclear how much money you'll need for a down payment. Misconceptions abound regarding down payment assistance schemes. To begin, many consumers believe that help is exclusively accessible to first-time homebuyers. While first-time purchasers have many alternatives, repeat buyers have as well.
According to Down Payment Resource, there are over 2,000 homebuyer assistance programs in the United States, with the bulk of them assisting with down payments. According to the same source:
"You don't have to be a first-time buyer. Over 38% of all programs are for repeat homebuyers who have owned a home in the last 3 years."
Furthermore, there are loan types such as FHA loans with down payments as low as 3.5%, as well as VA and USDA loans with no down payment requirements for qualified candidates.
If you're interested in learning more about down payment assistance programs, information is available through sites like Down Payment Resource. Then, partner with a trusted lender to learn what you qualify for on your homebuying journey.
In conclusion
Keep in mind that a 20% down payment is not always required. If you want to buy a home this year, contact a qualified real estate expert to begin the conversation about your home-buying objectives.
For more listings:
Homeclickny.com
Contact us:
914-215-5861