The Top Reasons for Selling Your House
Posted by Rummy Dhanoa on Monday, February 6, 2023 at 4:59:32 PM
By Rummy Dhanoa / February 6, 2023
Comment
Many of today's homeowners purchased or refinanced their homes during the pandemic when mortgage rates were at all-time lows. Since rates doubled in 2022, some of those homeowners have put their plans to move on hold, not wanting to lose their current low mortgage rate. And, while interest rates have begun to fall from last year's peak, they remain higher than they were a few years ago.
Currently, 93% of outstanding mortgages have interest rates at or below 6%. That means that the vast majority of homeowners with mortgages have a rate that is lower than what they would get if they moved right now. However, if you are a homeowner in that situation, keep in mind that mortgage rates aren't the only factor to consider when making a move. Your mortgage rate is important, but there are many other reasons you might need or want to relocate. According to RealTrends:
"Sellers who don't have to move won't be moving. The most common sellers will be: Homeowners downsizing . . . people moving to get more space, [households] looking for better schools…etc."
So, if you're on the fence about selling your home, think about the other reasons people are selling. According to a recent National Association of Realtors (NAR) report, the following are the reasons why homeowners have decided to sell in the last year: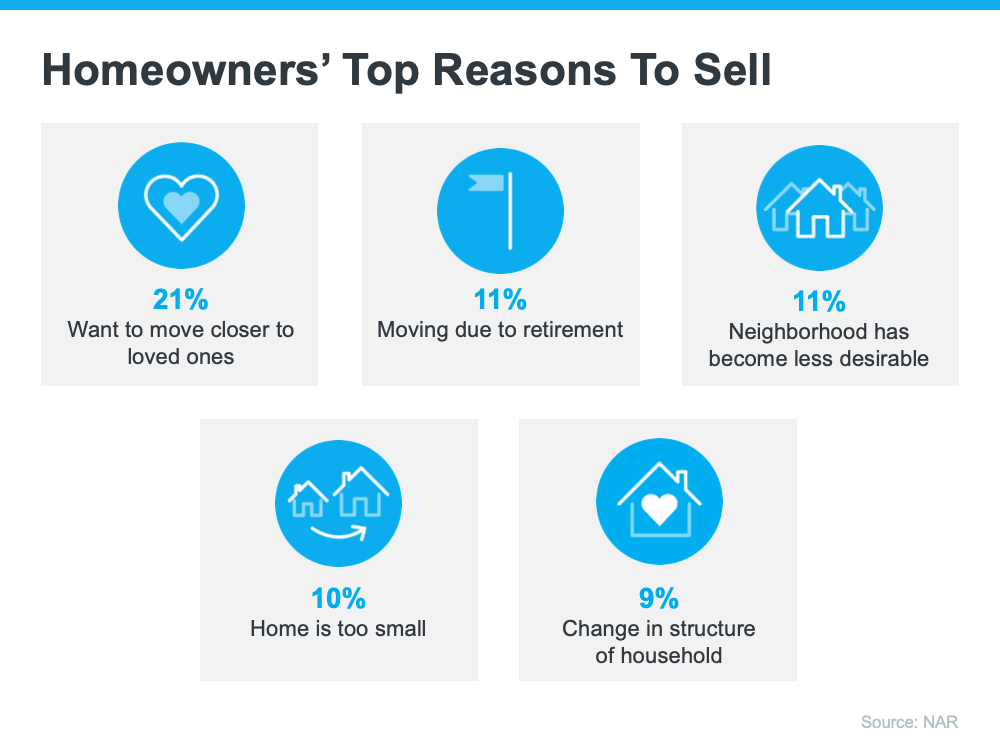 The desire to move closer to loved ones was the most commonly cited reason for selling, followed by retirement and their neighborhood becoming less desirable. A change in household structure, as well as the need for more space, played a role.
If you also want to relocate or require more space than your current home can provide, it may be time to sell.
What you want and need in a home can be a sufficient reason to relocate. Work with a trusted real estate professional who will provide advice and expert guidance throughout the process to determine what is best for you. They'll be able to lay out all of your options, providing you with the information you need to make an informed decision.
For more listings:
Homeclickny.com
Contact us:
914-215-5861