What's Ahead for Home Prices?
Posted by Rummy Dhanoa on Thursday, October 20, 2022 at 10:25:40 AM
By Rummy Dhanoa / October 20, 2022
Comment
Home price appreciation is slowing down along with the cooling of the housing market as a result of the sharp increase in mortgage rates. And if you keep up with the news headlines, you'll definitely notice a wide spectrum of perspectives advocating for everything from continuing appreciation to plummeting property values. But what is real? What is most likely to occur in the future?
Though perspectives vary, it seems most likely that we will end up somewhere between a slight appreciation and a slight depreciation. Here are the most recent professional forecasts so you can make the best decision today.
What the Experts Are Saying About Home Prices Next Year
The graph below shows the most up-to-date forecasts from five experts in the housing industry. These are the experts that have most recently updated their projections based on current market trends: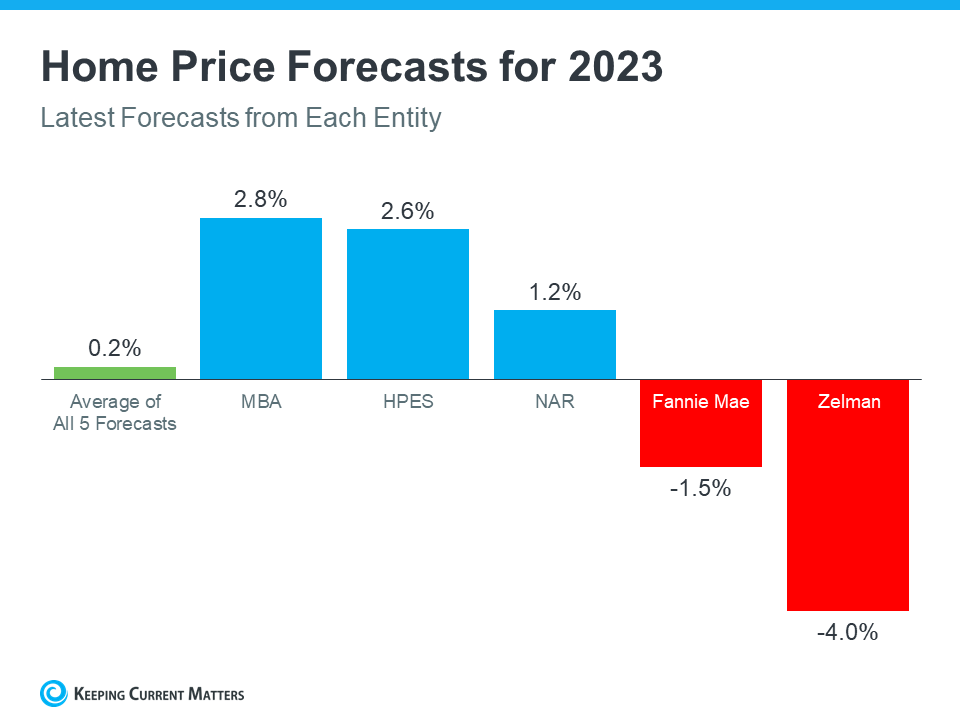 As the graph shows, the three blue bars represent experts calling for ongoing home price appreciation, just at a more moderate rate than recent years. The red bars on the graph are experts calling for home price depreciation.
While there isn't a clear consensus, if you take the average (shown in green) of all five of these forecasts, the most likely outcome is, nationally, home price appreciation will be fairly flat next year.
What Does This Mean?
Basically, opinions among experts on what is ahead for 2023 differ. Home prices will probably increase in some markets while decreasing modestly in others. It all relies on the circumstances in your local market, including how heated it was recently, the amount of inventory on hand, the desire of buyers, and more.
The good news is that home price appreciation is anticipated to shortly return to more normal levels. According to Wells Fargo's most recent prediction, prices would likely decline in 2023 but rebound and turn net positive in 2024. That prediction predicts a 3.1% increase in value in 2024, a figure far closer to the long-term average of 4% yearly growth.
And the Home Price Expectation Survey (HPES) from Pulsenomics, a poll of over one hundred industry experts, also calls for an ongoing appreciation of roughly 2.6 to 4% from 2024-2026. This goes to show, even if prices decline slightly next year, it's not expected to be a lasting trend.
As Jason Lewris, Co-Founder and Chief Data Officer for Parcl, says:
"In the absence of trustworthy, up-to-date information, real estate decisions are increasingly being driven by fear, uncertainty, and doubt."
Never let worry or uncertainty interfere with your plans. Reach out to a local real estate expert for the support you require at each stage of the process if you're uncertain about the direction that prices are taking or how to make sense of what is happening in the current home market.
The housing market is in transition right now, and it might be perplexing. The best method to deal with that shift is to rely on a reliable real estate expert to guide you and provide you advice so you can make judgments that are assured and knowledgeable about the situation of your market.
For more listings
Homeclickny.com
Contact us
914-920-2299