Where Will You Go If You Sell? Newly Built Homes Might Be the Answer
Posted by Rummy Dhanoa on Thursday, June 29, 2023 at 4:21:33 PM
By Rummy Dhanoa / June 29, 2023
Comment
Do you want to sell your home but are hesitant because you are concerned about finding your next home in today's market? You're not alone, but there's some good news that can put your mind at ease. New home construction is expanding and is becoming a larger portion of the housing inventory.
That implies that when it comes time to sell your home this summer, evaluating newly built homes is critical for broadening your options for your next move.
Near-Record Percentage of New Home Inventory
Today, newly built homes account for a near-record percentage of all homes for sale (see graph below):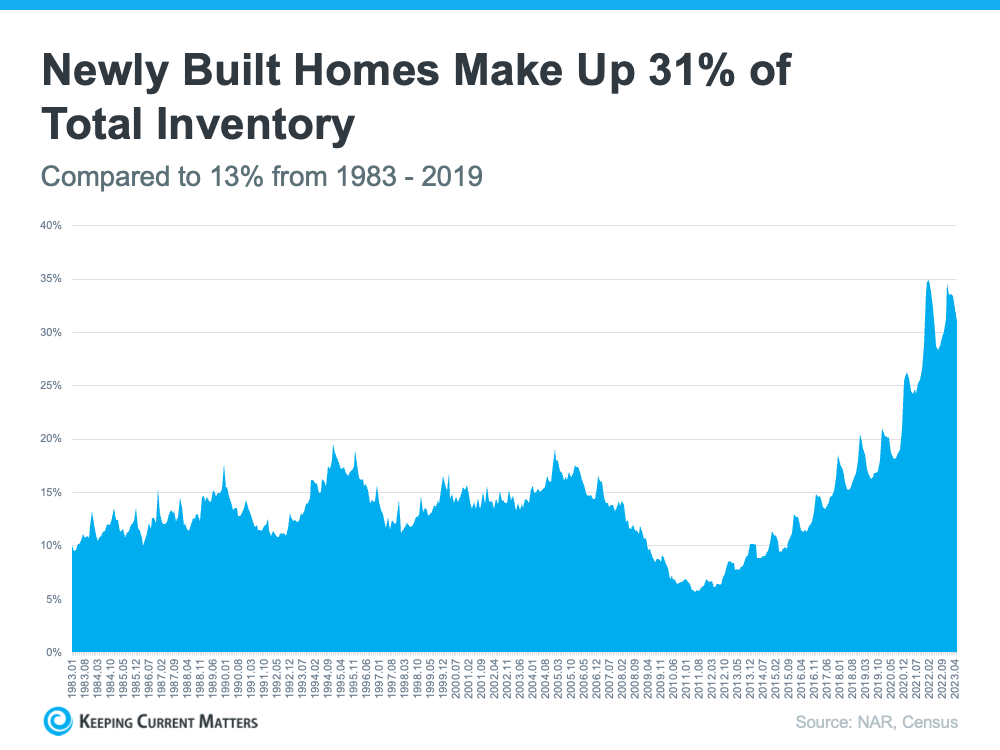 According to the report, newly built homes currently account for 31% of total for-sale inventory. From 1983 to 2019, newly constructed dwellings accounted for only about 13% of the total housing inventory on average.
That means that the percentage of newly built residences is more than twice as high as the national average.
Why This Matters to You
Overall, the quantity of available properties for sale remains limited. And, when supplies are limited, it's critical to consider all of your options. With increased inventory, the new-home building has emerged as a game changer. Not to mention, current data indicates that it is getting even more traction as more newly constructed homes are under construction and will be available in the future months.
The National Association of Home Builders (NAHB) Chief Economist, Robert Dietz, emphasizes the importance of recently built homes for individuals looking to buy in today's housing market. According to Dietz:
"With limited available housing inventory, new construction will continue to be a significant part of prospective buyers' search in the quarters ahead."
Don't ignore this expanding market segment or you'll miss out on wonderful prospects to find your dream home. Because new home building accounts for around 31% of the total for sale inventory, excluding recently built homes from your search could eliminate nearly one-third of your selections.
If you're seeking to relocate, a local real estate agent can assist you with selling your current home and exploring newly constructed possibilities in your neighborhood. They have the knowledge you require to manage both sides of the transaction so you may move out of your present home and into your new dream home.
In conclusion
Now is the time to sell your home and take advantage of the growing momentum in new home construction. Contact a reputable real estate agent who can assist you with the selling and purchasing processes so that you may make your dream of owning a new house a reality.
For more listings:
Homeclickny.com
Contact us:
914-215-5861