Why the Median Home Price Is Meaningless in Today's Market
Posted by Rummy Dhanoa on Tuesday, June 20, 2023 at 2:53:03 PM
By Rummy Dhanoa / June 20, 2023
Comment
Later this week, the National Association of Realtors (NAR) will release its monthly Existing Home Sales (EHS) report. This monthly report contains data on previously owned house sales volume and price trends. Home prices are projected to fall in the upcoming report. This may seem perplexing, especially if you've been following along and seen blogs claiming that housing prices have bottomed out and turned the corner.
So, why will this report likely show that home values are declining when so many other price reports show that they are rising? Everything is dependent on the approach of each report. The National Association of Realtors reports on the median sales price, although some other sources utilize repeat sales prices. Here's how those methods differ.
Wichita State University's Center for Real Estate Studies explains median prices as follows:
"The median sale price measures the 'middle' price of homes that sold, meaning that half of the homes sold for a higher price and half sold for less . . . For example, if more lower-priced homes have sold recently, the median sale price would decline (because the "middle" home is now a lower-priced home), even if the value of each individual home is rising."
Investopedia helps define what a repeat sales approach means:
"Repeat-sales methods calculate changes in home prices based on sales of the same property, thereby avoiding the problem of trying to account for price differences in homes with varying characteristics."
Today's Problem with the Median Sales Price
As stated in the quotes above, different ways can tell different stories. As a result, median pricing data (such as EHS) may show price declines even when the vast majority of repeat sales reports show price increases.
Bill McBride, Author of the Calculated Risk blog, sums the difference up like this:
"Median prices are distorted by the mix and repeat sales indexes like Case-Shiller and FHFA are probably better for measuring prices."
To emphasize this notion, consider the following simple explanation of median value (see graphic below). Assume you have three coins in your pocket and intend to arrange them in ascending order of value. If you have one nickel and two dimes, the median (middle) value is ten cents. The median value of two nickels and one dime is now five cents.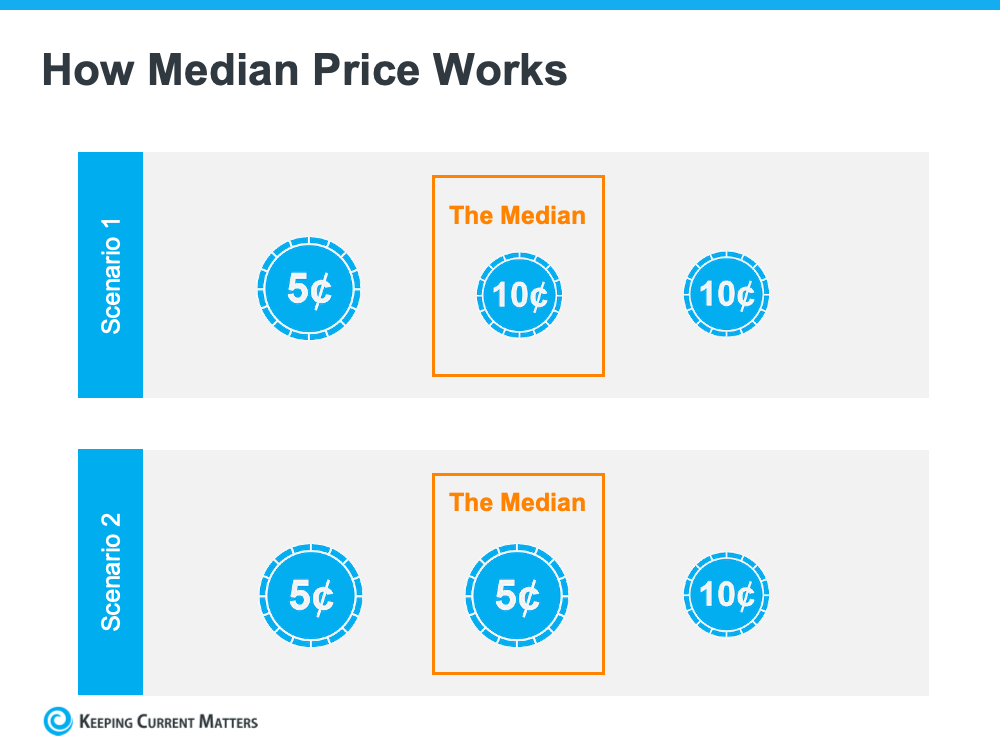 A nickel is still worth five cents and a dime is still worth ten cents in both circumstances. The value of each coin remained constant.
As a result, utilizing the median home price as a barometer of what's going on with home values isn't worth it right now. Most purchasers use home prices as a starting point to see if they are within their budget. However, most people buy homes based on the monthly mortgage payment they can afford, not the house's price. When mortgage rates rise, you may be forced to purchase a less expensive property in order to keep your monthly housing costs manageable. Because of this, a greater percentage of 'less-expensive' houses are selling right now, leading the median price to fall. However, this does not imply that any particular house has lost value.
Remember the coins when you see headlines in the media about prices falling later this week. Simply because the median price changes does not imply that property prices are declining. This means that the mix of properties sold is influenced by affordability and current mortgage rates.
In conclusion
Contact a local real estate expert for a more in-depth grasp of home price trends and reports.
For more listings:
Homeclickny.com
Contact us:
914-215-5861