Why There Won't Be a Flood of Foreclosures Coming to the Housing Market
Posted by Rummy Dhanoa on Wednesday, November 30, 2022 at 4:56:16 PM
By Rummy Dhanoa / November 30, 2022
Comment
With the rapid shift that has occurred in the housing market this year, some people are concerned that we will experience a repeat of the 2008 crash. However, there are significant differences between what is happening now and the early-2000s bubble.
One reason this isn't like the last time is that the market's foreclosures are much lower now. Here's why there won't be a flood of foreclosures in the market.
Not as Many Homeowners Are in Trouble This Time
Following the previous housing crash, over nine million households lost their homes due to foreclosure, short sale, or giving it back to the bank. This was largely due to more lax lending standards, which allowed people to take out mortgages they couldn't afford in the end. Because of these lending practices, a flood of distressed properties entered the market, causing home values to plummet.
However, revised lending standards have resulted in more qualified buyers today. As a result, fewer homeowners are behind on their mortgage payments. According to Marina Walsh, Vice President of Industry Analysis at the Mortgage Bankers Association (MBA),
"For the second quarter in a row, the mortgage delinquency rate fell to its lowest level since MBA's survey began in 1979 – declining to 3.45%. Foreclosure starts and loans in the process of foreclosure also dropped in the third quarter to levels further below their historical averages."
There Have Been Fewer Foreclosures over the Last Two Years
While you may have seen recent reports that the number of foreclosures is increasing today, context is critical. Many homeowners were able to pause their mortgage payments during the pandemic by using the forbearance program. The program gave troubled homeowners more time to get their finances in order and, in many cases, work out a plan with their lender.
Many people were concerned that the program would result in a flood of foreclosures into the market. That fear did not come true. According to data from the New York Fed, there are still fewer foreclosures today than there were before the pandemic (see graph below):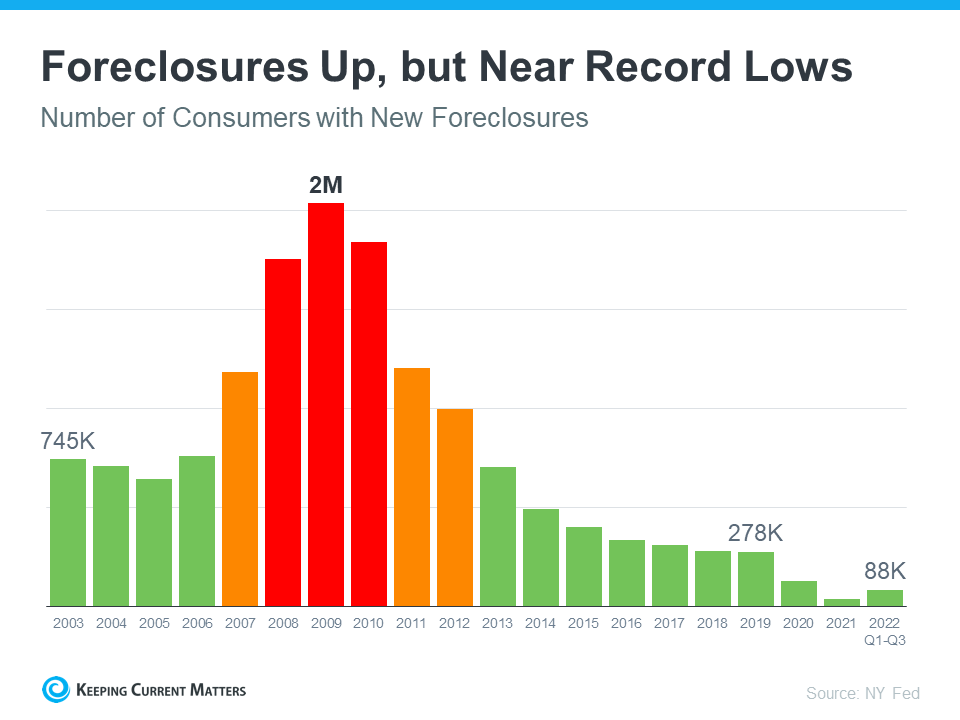 That is, while there are more foreclosures now than last year (when foreclosures were paused), the number remains significantly lower than what the housing market has seen in a more typical year, such as 2017-2019.
Most importantly, the figure we're seeing now is still significantly lower than the figure we saw during the market crash (shown in the red bars in the graph). What is the main takeaway? Don't be misled by a headline in the news. While foreclosures are up year over year, understanding the full picture requires historical context.
Most Homeowners Have More Than Enough Equity To Sell Their Homes
Many homeowners today have enough equity in their homes to sell rather than face foreclosure. The average homeowner has gained record amounts of equity in their home as a result of rapidly rising home prices over the last two years. And if they've lived in their homes for a longer period of time, they may have more equity than they realize. According to Ksenia Potapov, Economist at First American:
"Homeowners have very high levels of tappable home equity today, providing a cushion to withstand potential price declines, but also preventing housing distress from turning into a foreclosure. . . the result will likely be more of a foreclosure 'trickle' than a 'tsunami.'"
A recent report from ATTOM Data explains it by going even deeper into the numbers:
"Only about 214,800 homeowners were facing possible foreclosure in the second quarter of 2022, or just four-tenths of one percent of the 58.2 million outstanding mortgages in the U.S. Of those facing foreclosure, about 195,400, or 91 percent, had at least some equity built up in their homes."
In conclusion
Remember that context is important when reading about the rising number of foreclosures today. While the number of foreclosures is higher now than it was last year, it is still well below pre-pandemic levels. If you have any questions, contact a real estate professional.
For more listings, click the link below:
Homeclickny.com
Contact us at:
914-214-7298